The rotting Grind, ' Beef Conspiracy ', soon will publish a new album that also the first full-length album since 18 years revealed the filthiness grind. ' A Jigsaw of A Flock of Geese ' are planned to be published in the end of April 2016 and now, the band has opened the pre-order for the album at this location.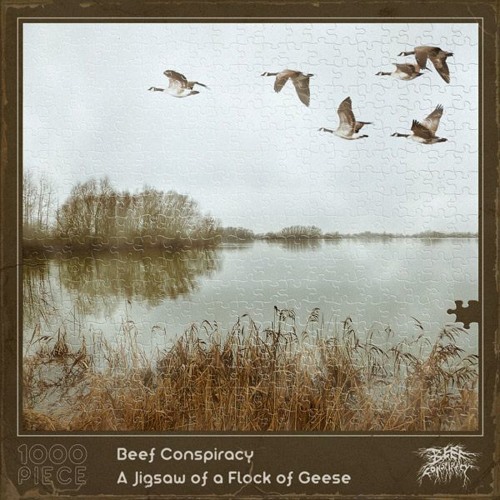 A song from the upcoming debut album that was published, entitled ' Dismemberment Of A Haemophiliac ' can be heard here.


'Beef Conspiracy', purveyors of the finest UK death/grindcore stupidity, have awoken from their collective bewilderment for long enough to record a new full length album. The long feared follow-up to their 2004 mcd "Hung, Drawn and Quarter-Poundered", is titled " A Jigsaw of a Flock of Geese" and will be released at the end of April on Pathologically Explicit Recordings. The album was recorded by Dan Biggin at HVR studios (Criminal, Lock Up, etc) and mixed by guitarist Tom Bradfield, also of Grindethic Records, Infected Disarray and Twitch of

T

he

D

ead

N

erve.

01 hot sausage coma
02 dismemberment of a haemophiliac
03 reach for the sword
04 foreplay of the dead
05 jam or butter, not both
06 beneath my skin
07 a jigsaw of a flock of geese
08 spunky beefcake
09 it fell to the pavement from that with doth befoul
10 nothing says i love you like a chainsaw injury to the head
11 entrails for decor
12 beef denied
13 badgers ate my dog
14 nobody knew that the wig was made of spiders
15 steak shaped cake tin
16 you don't start with a fist
17 brown lips
18 my meat, your baps
To coincide with the album, the band are also self-releasing a limited edition 2 disc digipack of bonus material entitled "Leftover Pieces". Disc 1 contains 27 audio tracks of leftover material from the album, rehearsal and demo recordings of old tracks and a fully mixed live set that was original planned as a live cd release. Disc 2 is a DVD compilation of old clips, an interview with Corrosion TV and a muti-camera recording of a live set at the Snooty Fox in Wakefield. For those of you that are worried your jigsaw puzzle collection isn't brutal enough, the band are also producing a limited edition box set version including both releases along with a Beef Conspiracy jigsaw.
And this is a teaser for ' Leftover Pieces ' and if you want to feel more dirty grind can be pre-order at this location ( limited edition box set, only available from the Band)
Written by Cerberus and Tom Grindethic
Edit by Cerberus